The Best Screen Annotation, Zoom and Assistant Tool for Presentation
Presentation Assistant is a best annotation, zoom and assistant tool for teaching, technical presentations, education, demonstration, explaining, and internal meeting at work or if you just need to explain someone something on your computer.

Presentation Assistant is an ideal tool for:
Teachers, Professors, Trainer, Specialists.
Various tools during interpretation or demonstration to impart knowledge and skills to trainees with improved clarity.
Project managers, Department Managers, Meeting hosts.
Help preside over a meeting more effectively and describe the contents of a project more clearly.
Sales, Customer Managers.
Convey the characteristics of the product or solution with enhanced clarity and deeply impress the customers.
Overview
Presentation Assistant allows users to annotate on screen and zoom into certain portions for quick explanation. With the screen annotation tools, you can draw all kinds of lines, rectangles, circles, or add text marks or picture marks on the screen.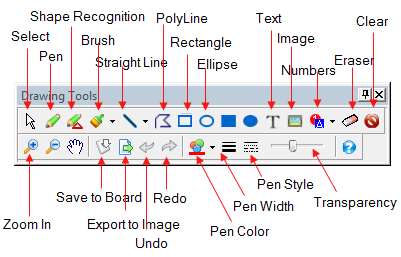 Moreover, Presentation Assistant offers more additional on-screen annotation tools – Spotlight, Curtain, Screen Digital Clock, Arrow Point, Magnification, Screen Capture etc.
Presentation Assistant can helps you preside over a meeting more effectively. It enables you to open documents or programs quickly, and play background music conveniently during the presentation. It is a must have for presentations.
The Ultimate edition of Presentation Assistant offer more features which makes it easy for your audience to follow your actions on the screen. It adds cursor highlighting abilities and mouse click effects. It also displays your keystrokes on screen and allows you to draw lines and shapes on live screen.
Features
Mark freely on screen
Electronic Whiteboard

Pen, Brush, Line, Poly Line, Rectangle, Ellipse, Text, Image, Shape Recognition
Transparency Effects.
Different pen width and color.
Undo, Redo, Export

Draw freely on the board
Add as many boards as you want
Set different background color

Full Screen Zoom

Spotlight & Curtain

Zooming screen with the keyboard or wheel
Zoom with selection rectangle
Allow annotating

Different Shapes
Transparency Effects

Countdown

Task Shortcuts

Displays a countdown or a normal clock on the projection screen.

Open documents and programs quickly during the presentation.

Playing background music

Monitor Switch

Playing background music conveniently.

Quickly move windows between monitors.

Pointer Effect
Mouse Click Effect

Highlight Visibility Pointer
Highlight Mouse Movements
Spotlight Effect

Display a circle when you click your mouse
Different colors for different buttons
Animation Effect
Play Click Sounds

Live Drawing

Live Zoom

Allows you to draw freely on the screen but not lock the screen.
Draw horizontal, vertical lines
Draw arrow lines
Press hotkey to clear all

Zoom in and zoom out the windows but allows you to work on the screen.
Support the drawing

Keystrokes Displaying

Flexible, Easy to Use

Displays your keystrokes in an overlay at the bottom of the screen.
Keystroke Filter: Allows you to define a list of custom keystrokes that will not be displayed.

Activate or deactivate all effects with the toggle Hotkey.
All effects can be operated in two different modes: Standalone or Together.
Everything about Presentation Pointer is customizable:

Arrow Point

Screen Capture

Drag on the Arrow Point to move in any direction
Select different color and change the size

Capture entire screen, selected window or region of screen.

Screen Digital Clock

Hide output on projection screen
Screenshots
Annotate on Screen
Draw Freely on Electronic Whiteboard




Use Spotlight to Grab Audience's Attention
Use Curtain to Grab Audience's Attention




Testimonials
Latest Customer Reviews
"It converts the computer screen into a manipulatable white/black broad and do a lot that one can do with electronic pointer, torch, chalk,whiteboard markers etc. For teachers and for business persons who may have to make presentations, this software should be handy. It will draw the listener's attention. I liked it."
Comment by prober
"nice program, works with multiple screens on win xp
can easily draw arrows, transparant rectangles ellipses
move all drawn objects as one object
zoom area to full screen, ctrl-wheel to zoom in/out, drag screen
magnifier near cursor (magnifies stuff from active screen only)
spotlight and curtains (top bottom) to hide stuff"
Comment by wiem
"A very good utility that is very useful during a presentation. It is easy to use as well. It's a must have for presentations."
Comment by Ben Richardson
"After about 5mins I was very comfortable working the menus and transferring between 2 monitors. To do trainings and small presentations and this will work great as an add on. THANK YOU"
Comment by Timecop
More of what customers are saying
Tech Spec
References:
Works with Desktop PC, Laptop and Tablet PC
Works with Interactive Whiteboard
Accepts digital pen input
Compatible with Graphics Tablet
Works with multiple screens
Supported OS:
Windows® XP 32- and 64-bit SP2, SP3
Windows XP Tablet PC Edition 2005
Windows Vista® 32-bit (all Editions), Windows Vista SP1, SP2 32- and 64-bit (all Editions)
Windows 7 32- and 64-bit (all Editions), Windows 7 SP1 32- and 64-bit (all Editions)
Windows 8 32- and 64-bit (all Editions)
Windows 10 32- and 64-bit (all Editions)

Portable
We offer the portable version of Presentation Assistant, it can be installed on, and run from a USB drive. You can carry it, together with your multimedia lecture content, to the several classrooms where you teach. Plug you USB drive into the PC and then run PresentationA.exe.

Click to download and purchase the portable version.


Only $49.95
Money Back Guarantee

For teachers and for business persons who may have to make presentations, this screen annotation software should be handy.
The best software to use for annotating on the screen.
Very useful for recording demonstrations, remote technical assistance, sales presentations, and training.. .
Great app for Internet Marketers, teachers and IT Trainers.
More of what customers saying