How to Write or Draw on Desktop During Presentation?
Our presentation aid software provides various Desktop Draw tools, helps you explain computer-based content in much better detail, by letting you draw, add text, pictures, or emphasis and clarification to anything that's on your desktop! With Presentation Assistant, your audience will give you more of their attention and you'll experience much faster rates of retention.
1. Draw Different Shapes on Desktop
When you launch Presentation Assistant, the desktop drawing toolbar popup. There are many desktop drawing and writing tools include: Line, Pen, Text, Image, Brush, Rectangle and Ellipse, And you can choose from different width pens to draw in your choice of color.
When you click a drawing tool button, It will lock your desktop and then allows you to draw or write on it.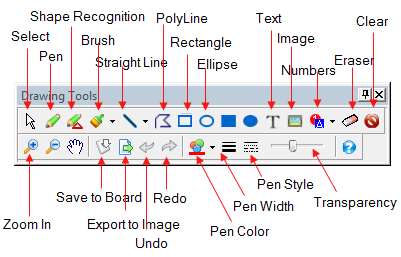 Free Download Presentation Assistant Trial
2. Draw on Desktop Whiteboard
Presentation Assistant also emulates a computer Virtual whiteboard. It basically lets the user draw basic forms and objects on the whole computer desktop making it an ideal tool during presentations, video conferences or other kinds of meetings where the computer monitor is being shown.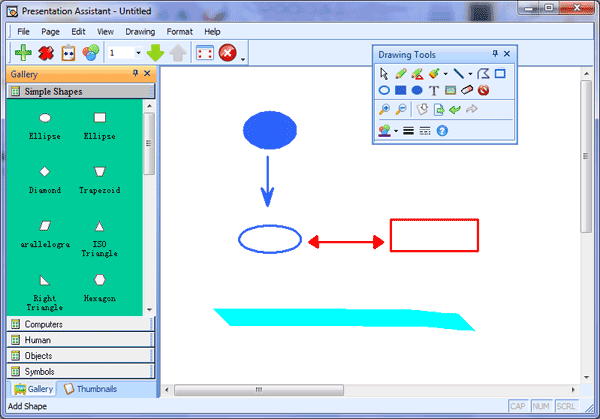 3. Draw on "Live" Desktop
Unlike Presentation Assistant, With the on screen pen of Presentation Pointer, you can draw freely on a "live" desktop but not lock the screen.

Quick info
Presentation Assistant lets you:
Draw on desktop to communicate for meetings, presentations, and training.
Zoom in screen to make it more visible.
Use Spotlight or Curtain to attract the audience to focus on the special screen area.
Virtual Whiteboard lets your draw on screen making it an ideal tool during presentations.
Open documents and programs quickly during the presentation.
Play background music conveniently during the presentation.
Quickly move windows between monitors.
Grab your audience's attention and focus!
And so much more...