Display Keystrokes to Make It More Understandable for Tutorials
With the Keystrokes function of visual presentation softwae Presentation Pointer you can display large characters on the screen for whichever keys you press (including modifier keys such as Shift, Alt, Control, and Windows). Using Keystrokes as you manually type out the various controlling key operations when demonstrating software, your audience will know exactly which keys you've pressed.
The options in the Keystrokes page control if and how keyboard usage is being visualized on screen.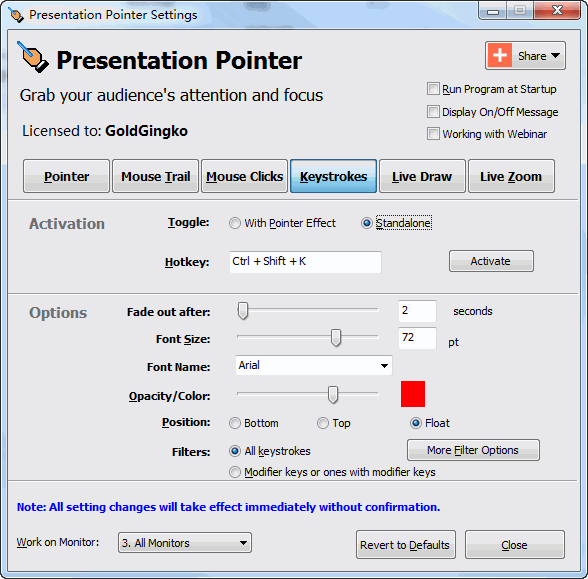 Activation
The Keystrokes Displaying can be operated in two different modes: Standalone or together with the Pointer effect. The first mode means, you can display keystrokes on your computer screen without the Point Effect being on. The latter mode means the keystrokes get displayed as soon as you have activated the Point Effect.
By default, you should see the F10 key assigned as hot key, which means that pressing F10 once activates the Keystrokes Displaying. Pressing the same key again deactivates it.
Options
| | |
| --- | --- |
| Options | Description & Use |
| Fade Out After n Seconds | The keystroke display will stop automatically after a certain timeout. |
| Font Size | This slider controls font size of the keystroke display in points. |
| Opacity | This controls the amount of dimming for the keystroke display background color in percent. The higher the value, the more opaque the background color. The lower the value, the more transparent the background of the keystroke display becomes. |
| Color | The keystroke display background color. |
| Filter | The Filter lets you determine whether you want all keystrokes displayed or you rather want to filter out keystrokes that don't make sense in your presentation situation. |
Presentation Pointer Step by Step Tutorials

Quick info
Presentation Pointer lets you:
Grab your audience's attention and focus!
Highlight mouse pointer that makes it easy for your audience to follow your actions on the screen.
Add more visual and audible mouse click effects.
Draw freely on the screen but not lock the screen.
Display Keystrokes to make it more understandable for your audience.
And so much more...