Presentation Assistant comes in three editions - Standard, Professional and Ultimate. You can switch edition by click menu Help -> Switch Edition, as shown screenshot..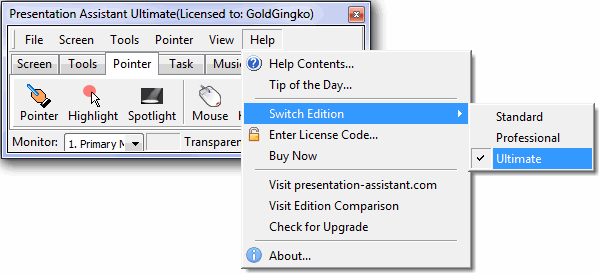 See the table below to compare the features available for the three editions, and choose the one that best suits your needs. .
Features



Standard

Professional

Ultimate

$29.95


Buy Now

$39.95


Buy Now

$49.95


Buy Now

Draw on Screen

Draw freely on screen

Pencil, Brush, Line, Poly Line, Rectangle, Ellipse, Text, Image, Shape Recognition
Transparency Effects
Different pen width and color
Undo, Redo, Export

Electronic Whiteboard

Draw freely on the board
Add as many boards as you want
Set different background color

Live Drawing on Screen

Allows you to draw freely on the screen but not lock the screen.
Draw horizontal, vertical lines
Draw arrow lines
Press hotkey to clear all

Screen Magnifier

Full Screen Zoom

Zooming screen with the keyboard or wheel
Zoom with selection rectangle
Allow annotating

Live Zoom

Zoom in and zoom out the windows but allows you to work on the screen.
Support the drawing

Screen Magnifier Lens Mode
Screen Magnifier Windows Mode

Screen Capture

Capture Entire Screen
Capture Selected Window
Capture Region of Screen

Presentation Tools

Spotlight

Different Shapes
Transparency Effects

Curtain

Different Shapes
Transparency Effects

Arrow Point

Drag on the Arrow Point to move in any direction
Select different color and change the size

Countdown

Displays a countdown or a normal clock on the projection screen to show the reminder time.

Monitor Switch

Quickly move windows between monitors.

Screen Digital Clock
Hide output on projection screen
User Tools

Help Preside Over a Meeting More Effectively

Task Shortcuts

Open documents and programs quickly during the presentation.

Playing background music

Playing background music conveniently during the presentation

Grab Your Audience's Attention and Focus

Pointer Effect

Spotlight Effect
Eye-catching Cursor
Stop automatically after a certain timeout

Mouse Click Effect

Display a circle when you click your mouse
Different colors for different buttons
Animation Effect
Play Click Sounds

Keystrokes Displaying

Displays your keystrokes in an overlay at the bottom of the screen.
Keystroke Filter: Allows you to define a list of custom keystrokes that will not be displayed.

$29.95


Buy Now

$39.95


Buy Now

$49.95


Buy Now

For teachers and for business persons who may have to make presentations, this screen annotation software should be handy.
The best software to use for annotating on the screen.
Very useful for recording demonstrations, remote technical assistance, sales presentations, and training.. .
Great app for Internet Marketers, teachers and IT Trainers.
More of what customers saying