Mouse Clicks Visible Effect
Presentation Pointer added more visual and audible mouse click effects including different colors for different buttons. The audience not only sees the mouse clicks but also hears them.
A visual and audible effect can give feedback when you pressed a mouse key. Mouse Clicks, as shown below, display a circle if you click one mouse button. Adjust all settings related to mouse clicks on this page.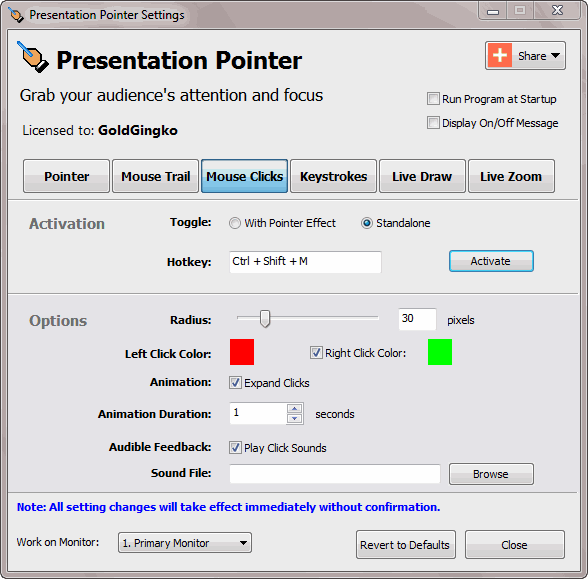 Activation
The Mouse Clicks effect can be operated in two different modes: Standalone or together with the Pointer effect. The first mode means, you can make the Mouse Click effect independently controllably. The latter mode means the Mouse Click effects will automatically be toggled whenever the Pointer effect is toggled.
By default, you should see the F9 key assigned as hot key, which means that pressing F9 once activates the Mouse Clicks effect. Pressing the same key again deactivates it.
Options
| | |
| --- | --- |
| Options | Description & Use |
| Radius | Define the radius of the circles |
| Left Click Color | The color for left-clicking |
| Right Click Color | The color for right-clicking |
| Animation | The animation refers to expanding circles from the click origin. |
| Animation Duration | The duration of the click animation. |
| Audible Feedback | When this option is enabled sounds of mouse click will be produced when pressing and releasing the mouse button. |
Presentation Pointer Step by Step Tutorials

Quick info
Presentation Pointer lets you:
Grab your audience's attention and focus!
Highlight mouse pointer that makes it easy for your audience to follow your actions on the screen.
Add more visual and audible mouse click effects.
Draw freely on the screen but not lock the screen.
Display Keystrokes to make it more understandable for your audience.
And so much more...