Magnify Computer Screen But Allows You to Work on the Windows
With the Live Zoom feature of Presentation Pointer, you can magnify windows screen and still use its usual utilities, such as the buttons, commands, context menus. The Full Screen mode is used to magnify your entire screen, the Screen Lens magnifies the area around the mouse pointer(whenever you move mouse pointer the magnifier will also move along with it), and the Window Mode only magnifies a particular area of screen.
Free Download the Windows magnifier Presentaton Pointer Now
Screen Magnifying
Launch Presentation Pointer and you will see the settings window opened. Click the Live Zoom button and so you can activate the Live Zoom mode. As it switches on, you can hold down the <Ctrl> key and then use the mouse scroll wheel to magnify the screen. You can draw freely on the magnified screen.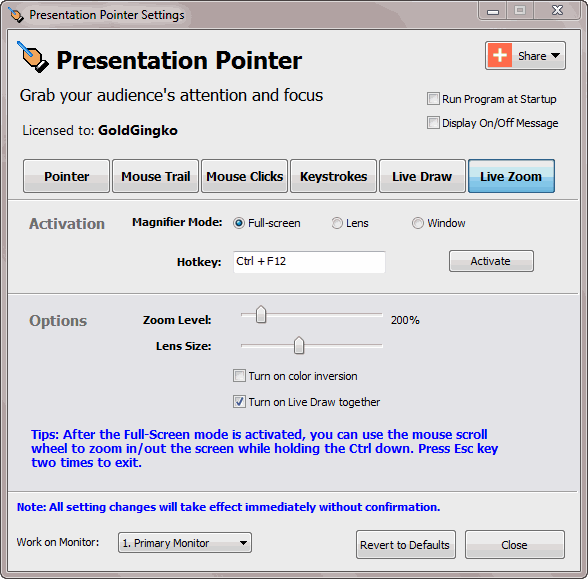 Activation
There are three Screen Magnifier modes:
Full-screen mode. In full-screen mode, your entire screen is magnified. Depending on the size of your screen and the zoom level you choose, you might not be able to see all of the screen at the same time.
Screen Lens mode. In lens mode, the area around the mouse pointer is magnified. When you move the mouse pointer, the area of the screen that's magnified moves along with it.
Window mode. In Window mode, only a portion of the screen is magnified, leaving the rest of your desktop unchanged. You can then control which area of the screen is magnified.
By default, you should see the Win Logo + F12 key assigned as hot key, which means that pressing Win Logo + F12 once activates the Live Zoom mode. Pressing the same key again deactivates it.
Options
| | |
| --- | --- |
| Options | Description & Use |
| Zoom Level | You can also use the mouse scroll wheel to zoom in or out the screen while holding the Ctrl down. |
| Turn on color inversion | Turning on color inversion increases the contrast between items on your screen, which can help make your screen easier to see. |
| Turn on Live Draw together | When you switch on Live Zoom mode, the Live Draw will activate too. So you can draw freely on the magnified screen. |

Related Articles

Quick info
Presentation Pointer lets you:
Grab your audience's attention and focus!
Highlight mouse pointer that makes it easy for your audience to follow your actions on the screen.
Add more visual and audible mouse click effects.
Use the screen pen to draw freely on the screen but not lock the screen.
Display Keystrokes to make it more understandable for your audience.
Live Zoom - Magnify windows screen but allows you to work on the screen.
And so much more...