Grab Your Audience's Attention and Focus with the Pointer Effect
Drawing the viewers' attention to a particular part of the screen may be essential when you want to explain a diagram or deal with complex, information-dense material. Presentaton Assistant provides an some Pointer feature which makes it easy for your audience to follow your actions on the screen.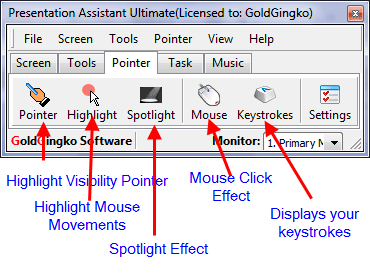 You can control the Pointer by clicking on the Pointer tab in the main pane.
Pointer Effect
Highlight Visibility Pointer
Highlight Mouse Movements
Spotlight Effect
Mouse Click Effect
Display a circle when you click your mouse
Different colors for different buttons
Animation Effect
Play Click Sounds
Keystrokes Displaying
Displays your keystrokes in an overlay at the bottom of the screen.
Keystroke Filter: Allows you to define a list of custom keystrokes that will not be displayed.

Download the Video (1.2M)
Presentation Assistant Step by Step Tutorials